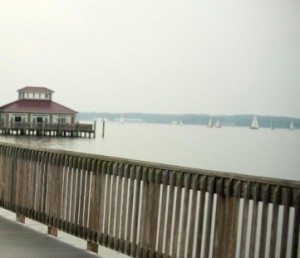 Southern Maryland offers a wide variety of attractions including state and national parks, museums, lighthouses, and more. Southern Maryland includes Calvert, Charles and St. Mary's Counties. Here are a few highlights:
St. Mary's City
St. Mary's City is the site of Maryland's first colony and capital. Visitors can explore a tobacco plantation, a tall ship, a Woodland Indian Hamlet, and the Town Center. Interactive tours and hands-on activities, with guides dressed in colonial attire, help visitors to experience life during colonial times.
For more information, visit http://www.visitstmarysmd.com/activities-attractions/historic-st-marys-city/
Calvert Cliffs State Park
Located in Lusby,Maryland, Calvert Cliffs StatePark is mostly forested with 13 miles of hiking trails. The park also includes a quarter-mile-long sandy beach, picnic areas, and both freshwater and tidal marshland.  Explorer John Smith named the massive cliffs, which were formed over 14 million years ago. Visitors can explore the cliffs to search for unique fossils, especially shark teeth. The park is also a popular location for hunting turkey, deer, and other game.
Calvert Marine Museum
The Calvert Marine Museum in Solomons Island, Maryland offers local historians and visitors a chance to explore the Prehistoric Past, the Natural Environment, and Maritime Heritage.  The Drum Point Lighthouse and the Cove point Lighthouse are highlights. Visitors can see boats restored and observe crafters in the Wood Carving Shop. River cruises are also available.
For more information, visit http://www.calvertmarinemuseum.com/visiting
Annmarie Garden Sculpture Park & Arts Center
Located in Solomons Island, the 30-acre sculpture garden and arts center features a quarter mile walking path with over thirty works on loan from the Smithsonian Institution and the National Gallery of Art.  Permanent sculptures are also part of the garden. A variety of annual festivals, family activities, public programs, and classes at the Studio school are available.
See http://www.annmariegarden.org for more information.
Patuxent River Naval Air Museum
Naval aircraft and flight systems have been researched, developed, and evaluated at the Patuxent River Naval Air Museum since World War II. The museum is our country's only official Navy Museum dedicated to these purposes. Events at the museum include "Meet the Airplane" where participants can enjoy activities, see a Navy test aircraft up close, and hear a discussion panel on the aircraft construction.
Find more information at http://paxmuseum.com.
A more complete list of activities and events happening in Southern Maryland can be found at http://somd.com and http://www.destinationsouthernmaryland.com.